Home > Shoes >
Adidas Barricade 7 Clay Men`s Tennis Shoe (Item #G64771)
Similar Items Also Available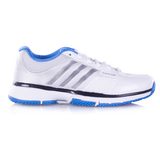 Adidas Barricade 7 Women`s Tennis Shoe
Item # G64774
$120.00 $100.00
Adidas Barricade 7 Clay Men`s Tennis Shoe
Item #G64771
adidas
Reg. Price

$125.00
Sale Price

$77.00
You Save

$48.00!


Description
Specs
Ratings & Reviews
Adidas Barricade 7 Clay Men`s Tennis Shoe
Featuring a special clay outsole with a herringbone pattern, It's no wonder Andy Murray chooses this to be his shoe of choice for the red clay season. The shoe itself even pays homage to the prestigious Roland Garros event by marking its logo on the tongue and insole of the shoe. This is sure to make any clay court season fan rejoice.
The Adidas Barricade 7 Mens Shoe has evolved into an even lighter and more flexible shoe. The shoe of choice for both Novak Djokovic and Andy Murray. TheBarricade is now 1.06 ounces lighter and is now constructed with a seamless upper for stability and comfort. Laterally located Adipower Barricade claws provide stability during quick cuts and fast footwork during extreme lateral movements and change in direction. Adiprene in the forefoot of these tennis shoes launches you up to the net,Extended Torsion gives you support, and the Adiwear outsole holds up to hard play. The Barricade is also micoach compatible.
Upper: Synthetic leather upper for light weight and durability.
Midsole: Extended Torsion System for midfoot and forefoot integrity.
Outsole: Adiwear for the best durability in high-wear areas
Best suited for: Players who are looking for a high performance shoe that provides superior stability on quick cuts and lateral movements. Great fit for players searching for a highly durable shoe.
0.0
/5 based on
0
ratings.
0
user reviews.
No reviews have been written for this product.
Be the first one! – Write a Review