Home > Strings > Luxilon >
Luxilon Big Banger Original 16 Tennis String Reel (Item #WRZ9909)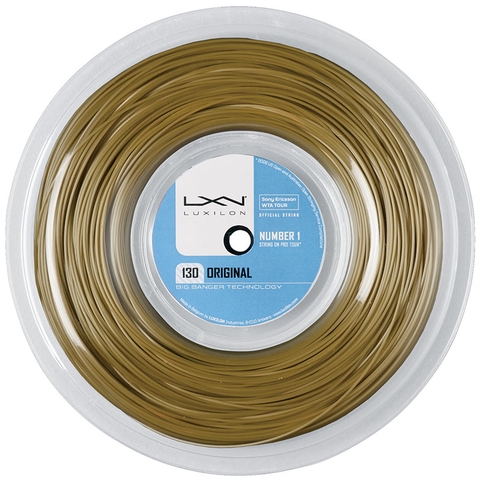 Luxilon Big Banger Original 16 Tennis String Reel
Item #WRZ9909
LUXILON
Our Price

$190.00


Description
Specs
Ratings & Reviews
The Luxilon Big Banger Original is one of the most popular strings of all time. It has been an instant success since it arrived in 1987. The Big Banger Original is the string that launched the Big Banger Revolution. It is a very consistent and durable string that equips the consumer with excellent ball bite and control. Designed to minimize string movement, and maintains tension better than most monofilament strings. The Original is uniquely insensible to moisture and atmospheric changes.

Best suited for: Hard hitting players whose main priorities are consistency and durability.

Gauge: 16/1.30mm
Length: 660 feet/200 meters
Strings approximately 20 racquets
Also available in: String set and 125` Mini Reel

Attention:Luxilon recommends that all Big Banger strings should be strung with at least 10% less tension then your usual string.

| | |
| --- | --- |
| Gauge | 16 |
| String Length | Polyester |
0.0
/5 based on
0
ratings.
0
user reviews.
No reviews have been written for this product.
Be the first one! – Write a Review