wait for a modal
Genesis Black Magic 16 Tennis String Reel
Item #GEBM129R
This Item In Other Colors or Sizes:
Genesis Black Magic 16 Tennis String Reel
GENESIS - Item #GEBM129R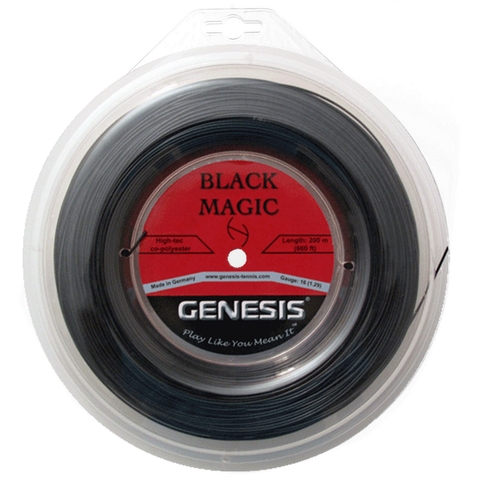 Genesis Black Magic 16 Tennis String Reel
The Genesis Black Magic String leads the pack among co-polyester strings on the market today. Offering a superb balance of power and control, Black Magic is bound to raise your game to a new level. This string excels when it comes to feel. Most polyester strings today have one major flaw: they have no feel! Black Magic is the answer. Softer than most co-polys, this is a great string for players that are looking for a comfortable poly offering a serious punch. A surprising combination of power, control, comfort, spin, and tension maintenance. Arguably the best performing co-poly string available in a solid black color. Tension maintenance is excellent.
Color: Black
Gauge: 16 / 1.29mm
Length: 200m / 660 feet
| | |
| --- | --- |
| String Length | 200m / 660 feet |
| String Type | Polyester |
| Package | Reel |
| Benefit | Durability, Spin |
| Color | Black |
| Gauge | 16 |
No reviews have been written for this product.
Be the first one! – Write a Review
Ratings & Reviews
No reviews have been written for this product.
Be the first one! – Write a Review
Join our Mailing List for Newsletters