wait for a modal
Ytex Square X 16L Tennis String Reel
Item #YTEX00085
Ytex Square X 16L Tennis String Reel
Y-TEX - Item #YTEX00085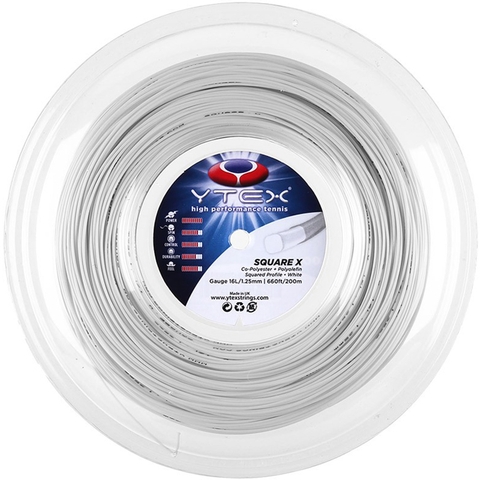 Ytex Square X 16L Tennis String Reel
This is a square profile monofilament co-polymer + polyolefin string with a Thermo Foil Cooling Process finish. Two Flat surfaces, mains/crosses, in contact with each other give extra durability, no notching and the string returns very quickly from any movement after hitting the ball.

It measures 1.20mm across the flat sides and therefore plays like a much thinner string increasing power and control. We have only one word to describe this string: Unique!
*Please add 2 items to cart to receive the Buy 1 Get 1 Free promotion!
| | |
| --- | --- |
| String Lenght | 200m / 660 feet |
| String Type | Polyester |
| Package | Reel |
| Benefit | Durability, Spin |
| Color | White |
| Gauge | 16L |
No reviews have been written for this product.
Be the first one! – Write a Review
Ratings & Reviews
No reviews have been written for this product.
Be the first one! – Write a Review
Join our Mailing List for Newsletters