wait for a modal
Genesis Typhoon 16L Tennis String Set - Silver
Item #GETY126
This Item In Other Colors or Sizes:
Genesis Typhoon 16L Tennis String Set - Silver
GENESIS - Item #GETY126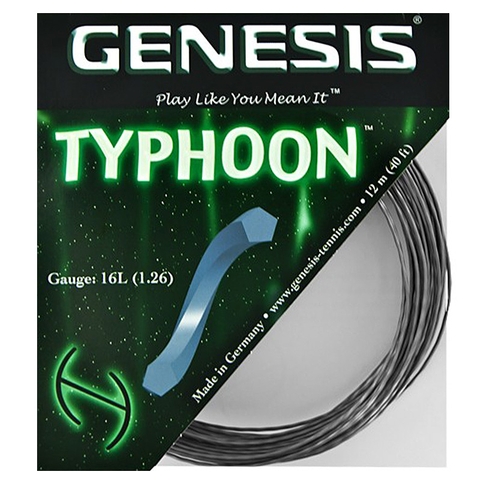 This item in other colors and sizes
Genesis Typhoon 16L Tennis String Set - Silver
The Genesis Typhoon String delivers outstanding spin along with pinpoint accuracy and unrivaled tension maintenance. Utilizing the most innovative and cutting edge technology, Genesis has created a string that excels in every category. Genesis Typhoon is made from a proprietary composite formula of high-tech polyester resin combined with new performance enhancing chemical additives. Typhoon goes through several heating and cooling stages. Extruded with a pentagonal profile, Typhoon is then additionally twisted axially for maximum bite. The poly ether material together with aluminum fibres offers players the best in feel and power. An extra coating of teflon increases the liveliness and offers a nice crisp stringbed. Genesis Typhoon offers players maximum power and spin. The unique profile bites into the ball and allows players to confidently swing out and control their shots from all parts of the court. The specially formulated chemicals increase the tension maintenance of Typhoon.
| | |
| --- | --- |
| String Lenght | 12.2m / 40 feet |
| String Type | Polyester |
| Package | Set |
| Benefit | Durability, Spin |
| Color | Silver |
| Gauge | 16L |
No reviews have been written for this product.
Be the first one! – Write a Review
Ratings & Reviews
No reviews have been written for this product.
Be the first one! – Write a Review
Join our Mailing List for Newsletters