Home > Strings >
Luxilon Big Banger Timo 17 Tennis String Set (Item #WRZ995300)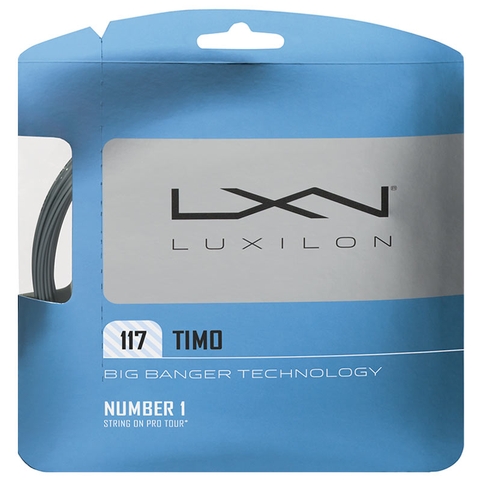 Luxilon Big Banger Timo 17 Tennis String Set
Item #WRZ995300
LUXILON
Our Price

$15.00


Description
Specs
Ratings & Reviews
The Luxilon Big Banger Timo 117 is a string of superior finesse. Thin for feel and control, and solid control that does not comprimise durability. Power, control, and feel all in one string. Luxilon claims that the addition of Titanium and Molybdenum provide this string with its special characteristics.

Best suited for: Finesse players who thirst for more control without comprimising durability.


726` Reel

Attention: Luxilon recommends that all Big Banger strings be strung with at least 10% less tension than your usual string.


| | |
| --- | --- |
| Gauge | 17 |
| String Length | Polyester |
4.0
/5 based on
1
ratings.
1
user reviews.
Average of 1 customer reviews:





---
Michael Garcia
New York
June 2012
Feel is unbelivable!!
4
/
5





Age Range:
26-34
Gender:
male
How Long Have You Been Using This Product:
Less than 1 month
For a polyester string, i was surprised that this had such great feel! I wanted a durable string but one that didnt really hurt my arm so much. What i got was good control with incredible feel. This and the Alu Power Fluoro are the best!!
---