New Babolat Pure Strike 2019 Tennis Rackets
New Babolat Pure Strike 2019 Rackets
Get Ready for Sharp Control - Endorsed by Dominic Thiem

The new Babolat Pure Strike Tennis Racquet Series is designed to deliver sharp control with exceptional feel for offensive performance players who want to hit hard with full confidence.
The 3rd generation Pure Strike racquets displays two major cutting-edge technologies: C2 Pure Feel powered by SMAC, a vibration filtration lay-up system that brings a pure feel on every shot and Control Frame Technology developed to ensure max control, this technology combines the stability of a square beam frame with the dynamism of a regular elliptic structure for unrivaled control and stability.
The new Pure Strike family comes available in different head sizes, weights and string patterns for players of different levels and abilities. All Pure Strike Racquets are characteristic for having a narrow frame of 21/23 mm wide. The Babolat Pure Strike 16x19 offers massive spin thanks to the 16x19 string pattern, weighted at 305g and 98 sq.in. head size, this model will offer players great stability and feel and is the benchmark for aggressive hard hitters. The Babolat Pure Strike 100 also has a 16x19 string pattern for massive spin shots, but varies in weight (300g) and head size (100 sq.in.) providing more maneuverability; this is a great racket for intermediate aggresive players. The Babolat Pure Strike 18x20 has a 98sq.in. head size and offers extreme precision thanks to the 18x20 (closed) string pattern; weighted at 305g it offers unique stability on every shot, making it the racquet of choice of Dominic Thiem. The Babolat Pure Strike Tour also has a 16x19 string pattern for spin but is heavier (320g) making it a perfect choice for performance players looking for a heavier frame. Finally, the Babolat Pure Strike Team is ideal for begginer players looking for a lightweighted racquet, with a 100sq.in. head size and weighted at 285g this is an easy-to-play with racquet that offers remarkable maneuverability.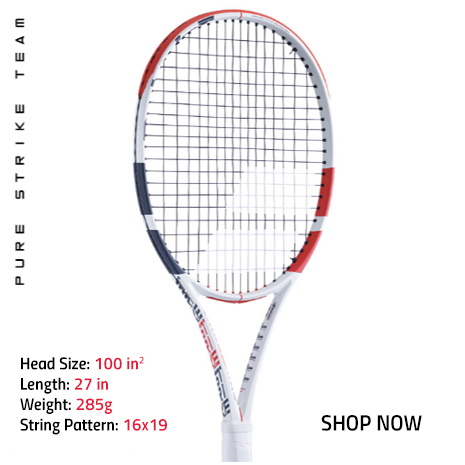 Join our Mailing List for Newsletters