About Us
About Tennis Plaza Tennis Plaza opened its doors in 1990 with its first brick and mortal store located in South Miami as a full service tennis specialty retailer. Throughout the years, we have been a USTA Florida sponsor, Sony Ericsson Open official racquet retailer, and awarded multiple times, including the prestigious #1 Tennis Specialty Store in the country. Today we have 5 stores located across Florida to bring our praised customer service to more customers. Our commitment to you goes beyond just offering a great customer service experience, world class shipping and free return policies. We serve your game in the court and when shopping online by offering the best prices, and a 110% Low-Price Guarantee on any item for 30 days after your purchase is completed.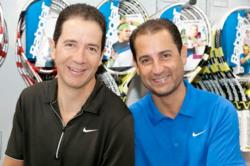 Our Founders Leon Echavarria and his brother Felipe Echavarria started Tennis Plaza with the goal of helping every tennis enthusiast be the best they can be by offering the largest selection of tennis equipment possible. This simple idea turned into the family that is Tennis Plaza today. Leon, along with his friends and colleagues, worked tirelessly to build the foundation of the company. Today, we are proud to be the largest tennis retailer in the world.
What's Important To Us While we have to have the largest selection of tennis equipment, apparel, accessories for customers to choose from, all the name-brands available for every unique individual, and the best teammates for an incredible work environment, our main priority has been, and always will be, you. The customer has always been our main focus and we want to inspire you to become the best tennis player you can be by serving your game.